The first impression is the last impression is a famous saying, it implies to recruiters as well who are scanning through the CVS. Typically, a recruiter spends only six seconds scanning each CV. So building a first impression on your recruiter is the key. If your CV is properly organized, precise and appealing to the sight, you'll convince the recruiters to spend more time reading the details on your CV.
On the other hand, a poorly written and ill-formatted CV will get you discarded in the first-round review.
Lets discuss in detail, how to write a CV?
What is a CV?
A CV, which stands for curriculum vitae, means "course of life". It is a detailed document highlighting your professional and academic history. It is a document used when applying for jobs. It allows you to summarise your education, skills, and experience to be judged by an employer.
Length of CV
A standard CV length should be no longer than two sides of A4. This also depends upon the experience of the candidate. For example:
A recently graduated with minimal experience may only make a one-sided CV of A4.
Those who are in high-level roles and have gained a lot of experience or have worked in multiple jobs over the last, five to ten years can easily manage 3 pages of A4.
Medical or academic CVs may be longer depending on your experience.
Include the main points of your education and experience and stick to relevant information don't repeat what you've said in your cover letter.
Divide your CV into proper sections
Your CV should have proper sections including
CV Header with contact information
Personal Profile
Work Experience
Education
Skills
Additional Sections
Related:  Interview Questions and Answers
Different Parts of a CV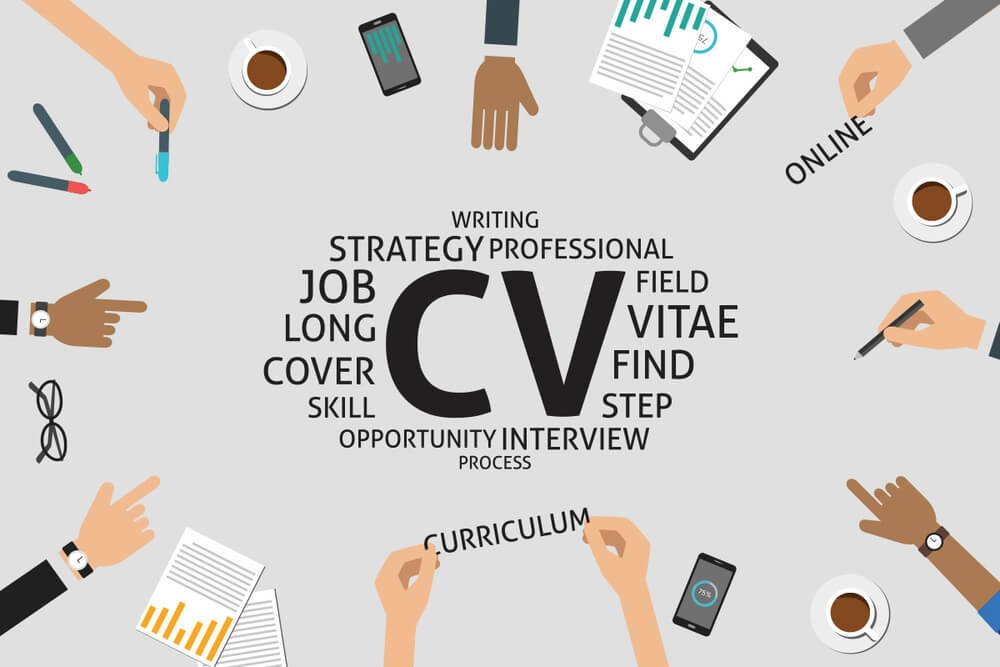 CV Profile
A CV profile is usually placed at the beginning of the CV. As your cover letter will be job-specific, it should focus on the sector you are applying for.
It is a precise statement that highlights your key attributes and skills and helps you stand out from the crowd. Keep cv personal statements short and catchy. 100 words are the perfect length.
Education
List all your professional qualifications and education with dates. Most recent education should be placed first.
Contact details
Write your full name, home address, mobile number, and email address.
Photograph
It is not necessary to add a photograph to your cv but if you do, the photograph should be very formal and professional looking. but not as stiff as an ID photo.
Work experience
List your work experience in reverse date order, and make sure that anything you mention is relevant to the job you're applying for. Include the job title, name of the company, how long you were with the organization, and key responsibilities. Your experience working there briefly.
Skills and achievements
This is where you will highlight any other skills you have. For example, the languages you speak, any achievements or certifications, and any attribute that might be beneficial for the role you are applying for. Pick out only relevant achievements and skills while expressing your career aims.
Avoid exaggerating your abilities. Recruiters usually ask questions related to the skills mentioned so you'll need to back up your claims at the interview.
Interests
Add interests relevant to your role. 'Socialising', 'shopping', or 'going to the cinema', aren't going to catch a recruiter's attention. However, relevant interests can attract the employer as well as give you something to talk about at an interview.
For example, if you are applying for a journalist writing job, you can include your own blog or community newsletters. 
Related: Soft Skills required for Career Success
CV Format
A well-formatted CV is essential for attracting recruiters' attention and interest in your CV.
Avoid titling the document
Avoid titling the document 'curriculum vitae' or 'CV'. It's a waste of space. Instead, let your name or specialty serve as the title.
Choose clear fonts
Avoid fonts such as Comic Sans. Choose a font that appears professional, clear, and easy to read such as Arial, Calibri, or Times New Roman. Use a font size between 10 and 12 and single spacing to ensure that potential employers can read your CV.
Ensure all fonts and font sizes are consistent throughout. For your name and section titles, pick 14 to 16-pt font size.
Use section headings
Section headings are a great way to break up your CV. Ensure they stand out by enlarging them by using font size 14 or 16 and bold.
Be consistent with your CV layout
Set one-inch margins for all four sides. Make sure the headings in your cv are uniform. Stick to a single date format on your CV: for example 11-2019, or November 2019. List everything in reverse chronological order. So that the recruiter sees your work history and most recent achievements first.
Avoid adding graphics
White space on the cv is important. Since your CV is going to be black and white, too many graphics might make it illegible for your recruiter.
Include bullet points
Clear spacing and bullet points make your cv appear concise and to the point. This allows potential employers to skim your CV and quickly pick out important information first.
Name the document properly
Name the document when saving. Don't just save it as 'Document 1' or a new document. Make sure the title of the document is professional and identifies you, such as john smith's cv.
Save as PDF
Unless the job advertisement asks you to provide your CV and cover letter as a Word document, save it with a PDF file extension
Keep it unfolded
If you're posting your CV, print it on white A4 paper. Only print on one side, and don't fold your CV as you don't want it to arrive creased.
Use a spelling checker
A good CV shouldn't have any spelling or grammar mistakes. A mistake leaves a bad impression on the employer. Use a spell checker to check over the document.
Add a professional email address
Make sure your email address sounds professional. It should not sound informal or childish. If your personal email address is inappropriate, create a new account for professional use.
Keep it authentic
Don't lie or exaggerate on your CV or job application. Mention your academic and professional details accurately. Adding any false information is dishonesty to a potential employer. Doing this can have serious consequences.
Considering all the above mentioned tips and then making your cv will definitely help your cv stand out of the crowd. It will also help attract readers' attention and secure you your desired job.